Wherein I listen to all of Bob Dylan's albums, in chronological order. Part 1
Part 1:
Folk Singer.
For good background about his beginnings as a folk singer, read his autobiography Chronicles Vol 1, or watch No Direction Home. They really do more justice to his beginnings than I can do in the space of this little blog.
His first album is mostly a collection of interpretations of folk standards and traditional songs (calling them covers seems a bit disingenuous, the purpose of standards and traditionals is to be played by anyone), as well a two originals. Bob is fresh faced here, and his enthusiasm translates in his renditions of these songs. This is before he became the "voice of a generation" with his protest songs, he's just a dude playing songs he likes. Though of course, he's still Bobby D, and he still sings them in his voice, which is reedy and nasally,he shows impressive range as a vocalist, especially on "Freight Train Blues", where he holds a note for what seems like an eternity. This is a misconception about Bob Dylan, that he's a bad singer, when he's actually quite talented as a vocalist, it's just that his voice is weird and unconventional.
Standouts:
In My Time of Dyin'
House of the Risin' Sun
Song to Woody
See That My Grave is Kept Clean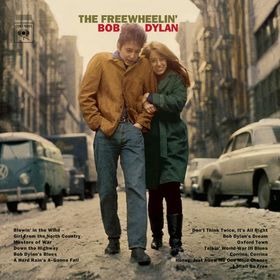 Next up is The Free Wheelin' Bob Dylan, which has his iconic "Blowin' in the Wind", as well as a lot of his classics from his folksy acoustic era. Bob is confidant here, all the songs are his own. And while some of the songs are serious, he's still has a flair for absurdism, like in Bob Dylan's Dream, and Talkin' World War 3 Blues. Now I gotta be honest, I'm not a huge fan of folksinger era Bob (though this little project is making me appreciate it more), and while I won't cast the lazy criticism of it sounding dated1, songs like Blowin' in the Wind don't feel as vital or as important as they were (even though some of their sentiments have been recently appropriate), its one of those generational defining things that "You just had to be there, man." Those epochal important things that while historically relevant, they don't feel relevant, they aren't as resonant unless you were actually there (see also Woodstock and Smells Like Teen Spirit). For every strong track on this album, there's a rambling filler that's forgettable.
Standouts:
Blowin' in the Wind
Girl From the North Country
Masters of War
A Hard Rain's A-Gonna Fall
Don't Think Twice It's Alright
Next comes the Times They Are A-Changin', which I always thought preceeded Free Wheelin', and I actually hadn't listened to until I decided to undertake this project, owing to my general apathy towards his folksy days. This album is a bit more melancholy, less wide-eyed and optimistic than Free Wheelin'. Songs like Boots of Spanish Leather and the Lonesome Death of Hattie Carol are aching and despairing. He's trimmed out the rambling songs and packed it with solid cuts all the way through.It is a superior album to Freewheelin', it lacks that albums rambling filler, it's a bit more cynical and darker lyrically and is more of a complete album with a thematic unity suggested by the title.
Standouts:
The Times They Are A-Changin'
Boots of Spanish Leather
Only a Pawn in Their Game
The Lonesome Death of Hattie Caroll
His last true folk album (at least until the 90's), Another Side of Bob Dylan, Is a less serious, more intimate affair. He's not really grappling with serious issues, and the songs have a tossed of quality that belies the simple nature of the songs. They're funnier and more romantic that the bulk of those on the earlier albums. Chimes of Freedom is really the only political song on the album. The rest of it is rather whimsical, as he's starting to delve into the surrealism that would define his lyrics in the late 60's. This is probably my favorite of his "Just a Dude with a guitar and harmonica" albums.
Standouts:
All I Really Wanna Do
My Back Pages
Chimes of Freedom
I don't Believe You(She Acts Like We Never Have Met)